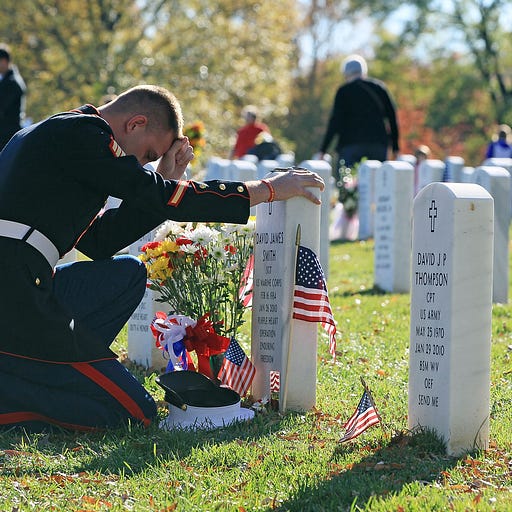 May 30, 2021 • 10M
Much to Memorialize...
Press play to listen to Dan Rather read this essay.
---
Memorial Day and my beloved nation is at a crossroads —between pain and hope, suffering and peace, fragility and optimism. In the "before times," this long weekend was always a moment of transition, a milestone marking the unofficial start of summer. School would be wrapping up and barbecues, parades, and trips to the beach would be on the agenda. This is still true now, but this year, like the one before it, is nevertheless cast in a very different hue. Last year we were approaching 100,000 dead from the pandemic. Over the ensuing 12 months another nearly 500,000 have died. A half a million souls lost. A wave of sorrow to memorialize.
We fervently pray that most of the loss is behind us now. The vaccines and plummeting case rates do fill us with hope. But we still are mourning collectively for all that was lost. Many of us feel that pain personally, as we mark friends and loved ones among those who were felled by this horrific disease. And because this is a global pandemic, we must bear witness to the tragic truth that much of the world is far worse off than we are. 
Memorial Day is, by definition, a time to measure and ponder loss. It is the yearly reminder that men and women not only fought for our nation but have died in that service, often in distant lands and in the early years of adulthood. Memorial Day is the holiday where we recognize that lives can be cut short, future hopes and dreams extinguished, with ripples of suffering reaching deep into neighborhoods and families. 
I have had the privilege and honor of reporting on our armed services in times of conflict. I have seen the terrible price of war. It is savage and unmitigated hell. I have seen the breath of life leave a young soldier's lips. I have been on patrols where a dear friend disappears in a flash. The sights, smells, and sounds of war never leave those who have witnessed them. It is uncomfortable to speak or write about it, but it is our duty to do so. We must keep the full sacrifices in mind. For I have also seen the high cost of hubris and ineptitude from our political leaders paid for in blood by those who were called or pressed into armed service for their nation. I honor on this solemn day all of those who served and perished. And I mourn with families who have suffered their losses.
With the pandemic, the battle front came to our hospital wards, and the front lines were staffed by a host of heroes who have suffered greatly. What they have endured over unending months of heartbreak seems of a similar nature to service in war. Many of these women and men lost their own lives to the disease. And the mental toll, the likely PTSD, echoes that of the battlefield. I would hope that maybe future Memorial Days find a way to honor these protectors of our national security as well. 
How do we process this moment, especially as our own democracy is under assault from within? How do we try to dig deep with resolve when so much around us seems broken? How do we not give up? 
I find myself on this Memorial Day, as I have in years past, thinking back to the dark days of World War II when victory in Europe and the Pacific was anything but assured. Our armed forces were fighting heroically, suffering great losses, and losing. Could we persevere and finally win? Would we be there for our friends and allies? General Douglas MacArthur fleeing the Philippines in perilous fashion under the Japanese assault in early 1942 vowed "I shall return." Two and a half years later he did. And so shall we now. We have no other choice but to fight for that future.
For all these reasons, I choose on this Memorial Day optimism for our national destiny. We have asked for so much of our citizenry and have come too far as a nation for us to falter now. This moment is a test that we must pass. To consider any other result is too depressingly hopeless, and I firmly believe that the future is ours to shape. Wise leadership can galvanize our nation to return to the path of justice and sound judgement. 
President Biden embodies this journey. His life has been struck many times by tragedy, the worst kinds of tragedy, the loss of a wife and children. He undoubtedly carries that grief with him in all of his actions. He has persevered, but he has not forgotten. The loss serves as a foundation for the future... 
To be human is to feel the pain of mortality. Some of us will experience it more frequently and acutely than others. But its finality will be all of our ultimate destinations. So the question before us is, what do we do with this knowledge? How do we, the living, honor the dead?
To grapple with thoughts like this, I often reach for poetry. And I wanted to end this essay with a favorite that I feel is both fitting for Memorial Day and our pandemic times. It is by Archibald Macleish, written at the request of the Library of Congress to honor their staff members who had died in World War II. In war, most who die fighting are young and the poem speaks directly of them. In our current healthcare crisis, we see the whole spectrum of age among the ranks of the fallen. But the sentiments of this poem capture what is in my own heart today far better than I could ever elucidate. So please stay safe and pause to remember those who have sacrificed everything.
The young dead soldiers do not speak.

Nevertheless they are heard in the still houses: who has not heard them?

They have a silence that speaks for them at night and when the clock counts.

They say, We were young. We have died. Remember us.

They say, We have done what we could but until it is finished it is not done.

They say, We have given our lives but until it is finished no one can know what our lives gave.

They say, Our deaths are not ours: they are yours: they will mean what you make them.

They say, Whether our lives and our deaths were for peace and a new hope or for nothing we cannot say: it is you who must say this.

They say, We leave you our deaths: give them their meaning: give them an end to the war and a true peace: give them a victory that ends the war and a peace afterwards: give them their meaning.

We were young, they say. We have died. Remember us.
— Dan & Steady Team
Please consider subscribing to STEADY, if you have not already. Our goal is to build a vibrant digital community —the more voices, perspectives, and viewpoints that can add to the conversation, the merrier.